Dental Implants Prescott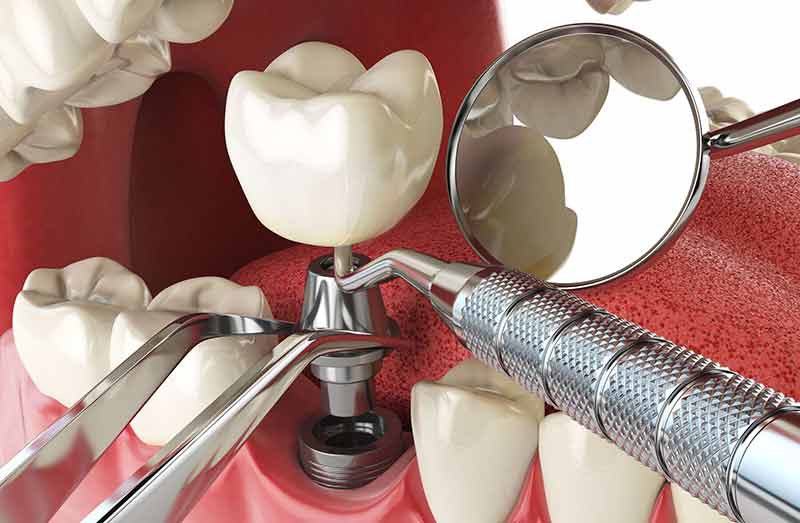 Implants are indicated whenever at least one tooth is missing. If the missing space(s) is not filled, the teeth surrounding the space often drift, the opposing teeth in the other arch will erupt further into the oral cavity (hypereruption) which can change your bite, bone erosion can occur in the area, and even changes in speech might occur. The popularity of implants has increased steadily over the years.
Implants are designed to replace the root of a missing tooth and can be used to support crowns, bridges, or dentures. The root-form implant is the most common type and basically consists of three main components:
Implant screw - This part of the implant is made of titanium and is surgically placed in the bone. Titanium is accepted by the body extremely well and fuses with the bone (called osseointegration) during the healing process.
Abutment - This is a metal collar that attaches to the top of the implant screw and is the base for a crown, bridge, or denture.
Crown - The crown is the manufactured tooth that fits on top of the abutment. Bridges and dentures can also be secured to the abutment. The placement of the crown, bridge, or denture is the final step of the implant process.
---
More than a dental implant. A beautiful smile.
Inspired by natural smiles
A dental implant is a small, but strong, device that is inserted in the jaw bone in place of a missing tooth root, where bone grows and bonds with the implant surface. The new Straumann® PURE Ceramic Implant is a toothcolored and metal-free alternative that acts and looks like a natural, healthy tooth.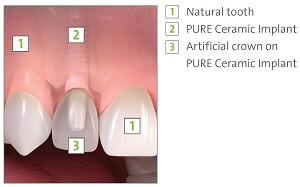 Designed with patients in mind
Straumann developed the PURE Ceramic Implant for patients seeking a metal-free dental implant, whether due to a metal sensitivity, a preference toward holistic or natural dentistry, or a thin, transparent gum tissue type.
The PURE ceramic implant offers a:
Tooth-colored implant for natural-looking results
Metal-free alternative with excellent biocompatibility
Mechanically-tested, high-strength implant backed by scientific evidence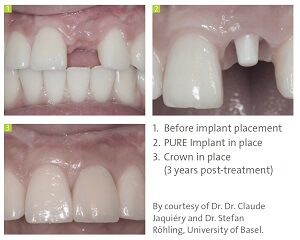 Experience the latest technology at Dentistry@Prescott for a long-lasting satisfaction and a natural-looking smile
The Straumann® PURE Ceramic Implant is made of a special high-strength ceramic designed to meet the highest functional and esthetic demands. The PURE implant is not visible through gum tissue as it matches natural tooth color even in patients with thin or recessed gingiva. The PURE Ceramic implant is biocompatible and bonds with your own jaw bone for a secure, long-lasting tooth replacement solution.