Meet Our Dentists
Dr. Raja Sandhu — BDS, DMD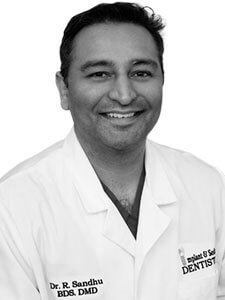 Dr Raja Sandhu is a graduate from Tufts University School of Dental Medicine class of 2004. Dr Sandhu has been practising dentistry for the last 16 years in the ottawa area with his list of credentials ever growing. To date he has successfully placed and restored over 5000 implants and has extensive experience with oral modeate sedation.
Credentials:
Tuffts University- Doctor of Dental Medicine - 2004
landera ranch Implant institute -Implant Mentoring - 2009
American Dental Implant Association fellowship and mastership - 2011
DOCS Education- Oral Sedation Dentistry - 2008
CMI Institute- mini Dental Implants and Dentures - 2010
Hands on Implant Placement and bone management - 2013
Teeth in day training under renowned surgeon Dr Mark Lin - 2016
Advanced Principles for Implantology: Module 1 (Indirect and Direct Sinus Grafting) - 2018
Dr Sandhu currently resides in Manotick with his wife who is a dental hygenist and part of our team , his three children and his little pet guinea pig. If you are looking for him in his spare time, he may be found on hole #9 of the golf course or out on the river with his family.
Dr. Angad Singh Virk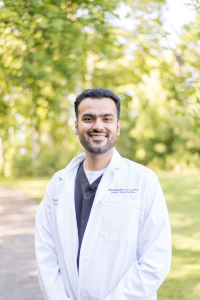 Dr Angad Singh Virk comes from India, a land of color, spirituality and unity in diversity. He has been nurtured by the rich Indian soil, which according to him has taught him to strive for the best. He completed Bachelor of Dental Surgery (BDS) from Kurukshetra University, India in 2012. Along with being a student in India he was actively involved in sports and community service.
Impressed by the Canadian ideology of inclusiveness and lifestyle, he came to Canada in 2014. He is of the opinion that India is his mother and Canada his teacher. His passion to be the best in the field of dentistry helped him to grow his pair of wings and attend Boston University's Henry M. Goldman School of Dental Medicine, from where he received Doctor of Dental Medicine (DMD) degree in September 2019
Credentials:
Kurukshetra University- Bachelor of Dental Surgery- 2012.Boston University- Doctor of Dental Medicine- 2019.CAD CAM- crowns in a day- Boston University.Digital Dentures- Boston University.Invisalign certification- Boston University.
Dr. Arash Shafiei, D.D.S. D.M.D.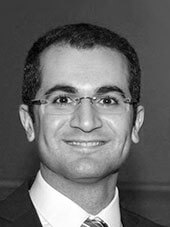 Dr. Shafiei grew up in Toronto and received his BASc degree in Chemical Engineering at University of Toronto. Upon completion of his undergraduate degree, he decided to set out on a journey across Europe to follow his childhood dream of becoming a dentist. Dr. Shafiei received his Doctor of Dental Medicine degree with cum laude designation at Semmelweis University in Budapest, Hungary. He went on to receive his Doctor of Dental Surgery degree from Western University in 2016.
Since his graduation, Dr. Shafiei has completed an Oral Moderate Sedation course at Western University as well as extensive training in Invisalign, wisdom teeth removal and implant restoration. His fields of interest include restorative dentistry, dentistry under sedation and oral surgery. Dr. Shafiei is currently residing in the Ottawa area with his wife.